Contact Us:
Phone: (415) 310-9598
Email: max@maxnapatours.com
TCP-38356

Currently, we are only offering private tours. All shared tours have been suspended, following California COVID-19 regulations.
For Ultra Convenient Shipping, May we Suggest…
MaxNapaTours is now able to ship your wine home to you! At the end of the day, leave your wine with us and have it delivered to your door. Wine shipping varies by state, and ranges from $45 to $70 per case.
10 Reasons Why You'll Love Our Napa Valley Wine Tours:
You'll see the best of wine country on our tours. Visit small family-owned wineries rather than overcrowded commercial establishments. Go where the buses, and even the vans, can't – many of the best vineyards don't show up on maps or in travel guides. In fact, a lot of them don't even have signs!
You won't want to miss the chance to travel in style. Our luxury SUV's accommodate intimate groups of 6 people or less. Join others from around the globe or schedule your own private tour.
We'll give you door-to-door service. This tour can pick up at most hotels in San Francisco, or in wine country.
You'll get to taste exceptional small-lot handcrafted products. Absolutely the finest wines in America.
Foodies love us! We find that oenophiles are usually foodies as well! Have lunch at one of Napa's many noted restaurants, or enjoy a picnic in the area (weather permitting, and if the group agrees).
We know you'll want to explore everything a wine country has to offer. Visit exclusive sights, beautiful landscaped grounds, private redwood groves, caves, and vineyards.
You'll see first-hand what goes into the making of a bottle of Napa Valley wine.
It's your turn to pick which specific vineyards you wish to visit – go wherever you want! Customize your tour according to wine region (Rutherford, Carneros, etc.) or grape type (Pinot Noir, Chardonnay, Cabernet Sauvignon, etc.). After all, it is your day!
You can opt to have your bottle shipped home at the end of the day (additional fee). Most States are $45 to $70 a case.  Most States are $45 to $70 a case.  In the three hot summer months, wine needs to shipped via air so the wine doesn't cook – this adds to the cost.  Sorry, but we are unable to provide international shipping at this time.
You'll have the most fun with us. We know you work hard – you deserve this. Our groups report consistently that we have the most enjoyable tours of any other tour company, and we welcome you to visit our TripAdvisor page
Imagine strolling through private vineyards away from the crowds, sampling hand-crafted wines made in small, personal batches that are only given to friends, family, and select buyers, and learning from winemakers everything they went though to create their art…
What Makes Our Napa Valley Wine Tours Unique?
While most people go to the wineries that line the main drag, did you know that there's a second set of wineries off the beaten path?
As you retreat into the mountains and back-roads, you will discover hidden gems that don't exist on maps or in travel guides. We will bring you to "by appointment only" vineyards on your Napa valley wine tour, where you can taste and buy wines not sold on grocery store shelves.
The tour is different every day, based on group preferences. In fact, we have never done the same tour twice!
Our tours are customized to meet your specific needs.
We have relationships with hundreds of different wineries, and winemakers will greet you as friends! You are welcome to make a request if you have a favorite winery or wine. Tours are done in Ford Expeditions EL's, complete with comfortable leather seating for six, rear climate control, privacy tinting, and bottled water.
The small group size on our Napa valley wine tours enables us to go to all types of wineries; from the most nationally known and premiere establishments, to places so small that you might be tasting wine in the family's dining room or on their back porch! You can observe the entire wine making process, from the vineyard to the bottle. We arrange pick up from over 250 hotels within San Francisco, and then depart for wine country via the Golden Gate Bridge. Tour length is about nine to ten hours, and we have you back in SF by dinner time…
The feel of Napa Valley Wine Tours And Its Wineries
Ask someone to name a U.S. wine region, and chances are that they will probably name the Napa Valley. Napa was the birthplace of the modern American fine wine movement, and bottles grace wine store shelves and fancy restaurant menus alike.
What most people don't realize is how small Napa actually is, or that it only produces 4% of California's wine.
The Valley in lined with both historic and modern wineries, and of all sizes. There are about 450 in all. Many are on the main drag of Highway 29 (or just 29 to the locals), and some are on the quieter Silverado Trail (The Trail). These two roads run parallel on either side of the Napa River, and one can expect traffic leaving at the end of the day, especially on the weekends and during harvest.
There are several cross streets connecting 29 and The Trail with old bridges spanning the river. It creates a grid resembling a ladder or railroad tracks. Some wineries are in the surrounding hills, neighborhoods, backroads, in town, you name it!
This might make it sound like all of Napa is built up, but it is far from the truth.
Napa was the first agricultural preserve in California and much land has been set aside and left untouched. There are ordinances against putting in new vineyards on hillsides, and constructing condos outside of city limits. The hills on both sides of the valley are natural, aside from old terraced vineyards from the last century.
The Napa Valley Wine Region
Napa Valley is a wine region, but is further broken up into 16 sub-regions, called American Viticultural Areas (AVAs) and we can visit any of them on the tour. They all look different and grow different grapes, which makes for a fun day. You may have heard of some of the more famous areas.
Napa Sub-Regions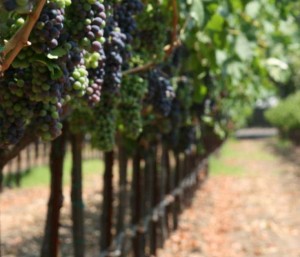 Carneros consists of grassy rolling hills with a view of San Francisco. Fog keeps summer temperatures down, and the area is most known for Pinot Noir and Chardonnay.
Rutherford is located in the center of the Valley and noted for its Cabernet Sauvignon. It is said to contain Rutherford Dust, giving Cabernets a dusty finish. It also produces excellent Sauvignon Blanc.
Stags Leap is located on rocky cliffs in the east part of the valley, and is another Cabernet Sauvignon area. Vines here take advantage of the late afternoon sun to produce round plush wines.
Oakville is the third major area for Cabernet Sauvignon and many of the most recognized wineries are located here. Cabernet from Oakville is fruitier than anywhere else in the valley.
Calistoga is located in the northern end of the Valley and also has the hottest climate. The high cliffs of the Palisades and Mount St. Helena really make you feel that you are deep in a valley. The area is most known for producing Zinfandel and Petite Syrah.
Spring Mountain is located in the Mayacamas Mountain range, separating Napa from Sonoma Valley. Soils are more clay with nice morning sun. The area is most famous for Merlot, but produces many other varietals. Thick pine tree forests cover most of the area, but there are several beautiful views into the valley as well.
Red Wines of Napa
80% of the wine produced in Napa is red and almost all is dry. Cabernet Sauvignon is the most planted, followed by Merlot, Cabernet Franc, Syrah, Zinfandel and Pinot Noir. (Let's say more about the red wines of Napa Valley here)
White Wines of Napa
Chardonnay and Sauvignon Blanc are the most seen white wines. Napa also has several old vineyards planted to less known varietals, such as Charbono, Sangiovese, Colombard or Chenin Blanc. Many of the vineyards are co-planted with up to 10 varietals growing next to one another.
Grapes are all picked and fermented together in what are commonly called Field Blends. These types of wines are interesting, delicious to try and are rarely seen on grocery store shelves.
Most wineries in Napa are only open by appointment, and more are becoming that way. They offer seated guided tastings of their wines. This is great because you really get a chance to enjoy the wine without being interrupted, and gives the opportunity to ask all the questions you would like.
Private tours also afford extra education; you can ask to see the vines or the barrel room. These exclusive tastings are more costly but the pace is relaxed. Expect to pay $20-30 per person in tasting fees, although many will refund if some wine is purchased. You are also more than welcome to share tastings as a couple.
If a winery offers more than one tasting option, two different tastings can be done by a couple and you get to try twice the wines!
The Restaurants of Napa Valley (Here you go, foodies!)
Then there are the restaurants! People who like good wine also like good food, and there is no shortage of Michelin Star and other highly rated places to eat. Many restaurants have their own vegetable gardens right outside the window and you can see the chef picking things you are about to taste. We will take care of reservations and everyone on the tour eats at one big table. You are welcome to request a restaurant and we will do our best to accommodate.
The Wine. You've Tasted, You've Purchased. Now What?
Now what to do with all this wine that I bought? There are many options available:
If you were to buy six or more bottles per winery, have them ship it.
Sometimes you can get free shipping or at least reduced pricing. Many people pick up a bottle or three at each winery and build a case in the car. At the end of the tour, we can stop at a shipper and you have it shipped home. Another option is to purchase a shipping box to take with you on your trip back. As it is over 3oz. of liquid, wine must be checked luggage which may or may not be included in your airfare.
If you have only have one or two bottles, they can be packed in your suitcase.
Another way to enjoy your wine is to bring it along with you to a restaurant, a great perk about dining in California. Most will charge a corkage fee, usually between $10 and $30 to have them open it for you. Typically, the more expensive the restaurant, the more expensive their fee will be.
If you book this tour at the beginning of your trip, you will have wine to drink for the rest of your vacation!
As far as weather is concerned, all four seasons are beautiful. Winter rains turn the Valley green between November and May, while the summer is the dry season and the grass is a golden color. Going wine tasting is a great activity on a rainy day, so don't let this deter you. It is much better than trying to walk around San Francisco in the rain! It very rarely snows in Napa, and if it does, it usually melts by 10am.
Winter temperatures average 60 degrees Fahrenheit for the high, perfect for drinking red wines. Summer temperatures are typically in the high 80's. Often the warmest time of the year is September and October, ensuring that the grapes will come in ripe. Expect temperatures up to 100 degrees if there is a heat wave, although there is low humidity. Daytime summer temperatures in Napa are usually 30 degrees warmer than San Francisco, so remember to dress in layers.
Our personal record is 106 degrees in Calistoga to 52 degrees on the Golden Gate Bridge an hour and a half later!
Thirsty, You Say?
No worries! In the back of all of our SUVs are large coolers. These are stocked with chilled water for you to drink. Hydration is key while drinking alcohol, and you should drink at least as much water as wine. If it is a hot day, you should drink even more water. Just reach back and grab a bottle of water, you don't even need to ask. The restaurant in the middle of the day is often a good break to hydrate. Or have another glass of wine! These coolers will also keep your wine and food purchases refrigerated on the tour.
Many people snooze or "rest their eyes" on the way home after a day of tasting. We call this the Napa Nap, or the Sonoma Coma!
How Max Got Hooked On Napa Valley Wine Tours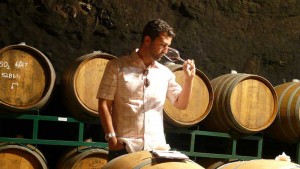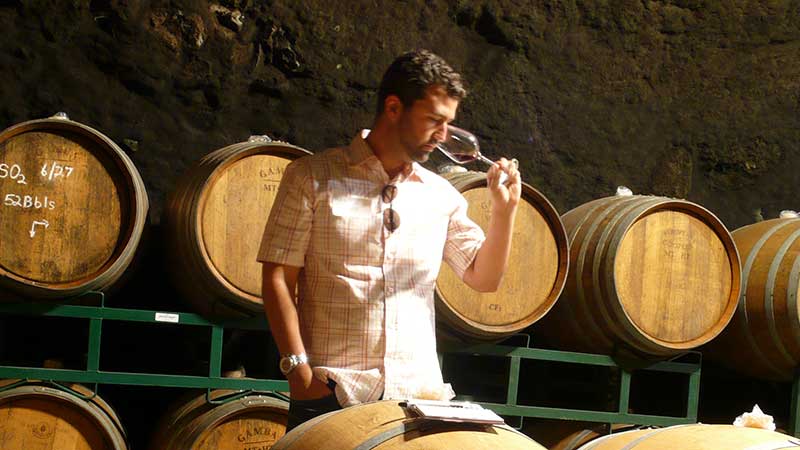 When I first moved to San Francisco more than a dozen years ago, I had two experiences with wine tours. I had only lived here for a week when some friends invited me to share a limousine to wine country. It was only $350 for a five hour tour which sounded very reasonable. Little did I know that three hours would be spent on the drive there and back. We stayed longer, of course. At the end of the day, the longer hours and extra fees, tolls, taxes etc. made the tour almost $800, which I had to cough up before my first paycheck!
My second experience was with my neighbor who belonged to a couple of wine clubs. I went up with him and instantly enjoyed the off the beaten path wineries where we were treated like friends. This is the kind of experience we would like to share with you.
Your Itinerary Will Be Tailor-Made Just For You
A unique itinerary will be built for your unique Napa Valley wine tour day, based on group preferences.
We typically visit small family-owned wineries where you can taste handcrafted wines sold only at the cellar door.
Winemakers will greet you as friends. You are also able to make specific winery requests. All drivers are Certified Sommeliers and teach you about wine as the day progresses. We pride ourselves in attention to detail and great customer service, and look forward to giving you the perfect balance of knowledge and fun!
[contentblock id=1]