New Zealand has set a new standard for Sauvignon Blanc in the world. These wines are not oaked (with rare exception) and have high acidity. New Zealand's combination of moderate temperature and intense sunshine lead to a long hang time, while cold nights preserve precious acidity. The resulting wines are fresh with medium to high alcohol, and have flavors of capsicum and gooseberries. The wines can also exhibit minerality or herbaceousness. Purity and intense fruit is the goal, and wines achieve this by undergoing cool fermentations in temperature controlled stainless steel tanks.
The most famous region for Sauvignon Blanc is Marlborough. It is located in the north end of the South Island. This is a relatively new region at 30 years old, but has given New Zealand a face in the world market. More than half of the country's exports are now Sauvignon Blanc, with most of them from Marlborough. Most of these exports are destined to Australia, Great Britain and the United States. Keys here to a successful harvest are well drained soils, and/or aggressive canopy management pioneered by Dr. Smart. There can be a distinct grassiness to the wine due to methoxpyrazine in the soil. Wineries use cutting-edge technology including mechanical harvesting and anaerobic stainless steel fermenters. Wines are fermented at cold temperatures to retain more fragile aromas.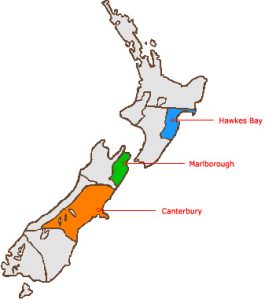 Marlborough can be broken up into two valleys. The majority of area under vine is located within the Wairau Valley, which makes over half or New Zealand's wine. The broad main valley has gravelly soils which give capsicum flavors to the wine, while the smaller and hotter side valleys to the sides contribute more tropical flavors. Much of the finished Sauvignon Blancs are blends from both environments. Some aficionados are worried that these "house styles" are too generic, so more single vineyard wines have been created to showcase a multitude of terroirs. The smaller valley in Marlborough is named Awatere. It is higher and dryer than Wairau, and produces Sauvignon Blanc with high acid and a tomato flavor. Parts of Awatere are also warm enough to ripen Bordeaux varietals.
Hawkes Bay is the oldest region of New Zealand, and was its most planted until 1990. It is a wide Bay in the North Island with a maritime climate. This area is the warmest, and enjoys the most sunshine in New Zealand, with climatic conditions similar to Bordeaux or Coonawara. Not surprisingly, this area is most known for Bordeaux Blends.
Cabernet Sauvignon does not ripen fully in some years, so Merlot has become the most planted variety here. Chardonnay is the 2nd most planted, and due to the relatively warm temperature, they tend to be more opulent than neighboring regions. Cabernet is the third most planted. Syrah has also shown a lot of promise; however plantings are still relatively small. The soils are composed of silt, loam and gravel. These each have different water holding capabilities, so a vineyard in one area might need watering while a vineyard planted in a different soil might be flooded at the same time. The most prized soils are Gimblett (Twyford) Gravels, which allow the most drainage and particularly suited to Cabernet and Merlot. These Gravels warm up in the sun and retain heat, similar to Galets in the Rhone. They only cover about 2000 acres which are north-west of the town of Hastings.
In contrast, Central Otago is New Zealand's newest area. It is located near Queenstown and the ski slopes in the center of the South Island. It is the southernmost wine region in the world, so summer days are very long. However, nights get quite cool, as winds blow down from nearby high mountains. There is a hole in the ozone layer above this area, which may or may not account for the very intense sunlight. This combination of intense sun and cool nights give the wines very bright flavors while keeping the alcohol under 14%. Although this is one of New Zealand's driest climates, there is frost potential all year. Central Otago is growing at a lightning fast pace; from only 11 wineries in 1996 to over 200 wineries today. Vineyards have replaced the old cherry and apricot orchards. Of the 5,000 acres (2000 hectares) under vine, three quarters are planted to Pinot Noir. About 300 hectares are devoted to Pinot Gris. Important sub-regions include the picturesque but wet Wanaka, and the north facing vineyards (southern hemisphere = toward sun) of Gibbston and Bannockburn
History
In the 1960's and 70's, most of New Zealand was planted to high yielding Muller-Thurgau, and the resulting wine was low-quality and inexpensive. Most was consumed locally. In 1961, George Fistonich planted his first vines at Villa Maria; he would later be a role model for the industry, with milestones such as paying grape growers by quality, switching to screwcaps and sustainability. In 1973, the first Sauvignon Blanc was planted in Marlborough by Brancott Estate, with the first vintage sold in 1979. The cool climate allowed the grapes to remain on the vine for an extended time, intensifying flavors. The wine immediately started winning awards, and production increased. In 1985, Cloudy Bay Vineyards was founded and came to attention for its fruit forward style and varietal character. It became so popular that the wine was sold out before being released. 1985 and 1986 saw wine scandals in both Austria and Italy, as well as the Chernobyl accident. In contrast, New Zealand's clean and environmentally friendly image further won over consumers.
In 2001, the New Zealand Grape Growers Council and the Wine Institute of New Zealand combined to form the New Zealand Wine Growers (NZWG). Now representing over 1000 members, it is the main force for marketing New Zealand wines as a collective brand and a leading producer of high-quality wines. New Zealand has been able to achieve what many countries could not; increasing sales while also increasing price. Instead of focusing on traditional concepts of terroir, NZWG has been successful at building a strong national brand, which benefits all of its producers. They limit how much wine is exported and make sure what does leave the country is high quality. This limitation, as well as a distinctive product and a long term pricing strategy, has led to high prices and demand for New Zealand wines.
NZWG introduced its hugely popular tagline "New Zealand Wine – Pure Discovery", which encourages consumers feel adventurous and willing to try something new. Most wines appear to be from a small winery, which has also boosted sales. These combined factors have created sustained consumer demand, with New Zealand enjoying a 10-20% higher average export price than other New World countries.
Industry
New Zealand Sauvignon Blanc has now achieved superstar status in the world. It accounts for 72% of production and 86% of exports. England, Australia and the United States continue to be the largest buyers. Sauvignon Blanc is also a profitable grape, as yields are relatively high, no oak is used and it can be in the market 8 months after harvest. The next most popular grapes are Pinot Noir and Chardonnay, accounting for 6% and 2% of exports respectively. Pinot Gris is a newer arrival and also accounts for 2% of sales. New Zealand wine is now a billion dollar a year industry.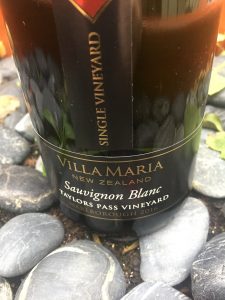 There are several threats that could cause these high prices to tumble. Sauvignon Blanc is not known for being age-worthy, so needs to be sold within a year of production. Now that the word is out on its popularity, scores of new labels are popping up. There is now 5 times more vineyard land there was 20 years ago. Planting Sauvignon Blanc in Marlborough is seen as a safe bet, and this is drawing foreign investment, particularly from Australia and England. With so many new wines coming to market, NZWG fear that prices won't be sustained. Surpluses can lead to price wars and heavy discounting. Once the wine is discounted, consumers will expect this, and stop paying a premium price. This happened in Australia a few years ago, with New Zealand Sauvignon Blanc selling for as little as AUS$4 a bottle. Large years, such as 2006, 2007, and 2008 can also lead to oversupply.
Another fear is that the market will shift away from Sauvignon Blanc. For example, Chardonnay is being removed in nearby Gisborne in response to a decline in its popularity. Marlborough, which grows two thirds of New Zealand's wine, is tied to primarily one varietal; Sauvignon Blanc. They cannot afford for the same to happen. The trick here is to market toward new customers, while reminding current customers why they like Sauvignon Blanc so much. At the same time, New Zealand also needs to diversify as wines fall out of favor and fashion. Effort should be put into promoting Pinot Noir and Pinot Gris. At the same time, they don't want to undercut Sauvignon Blanc sales, so a balance must be made.
Until now, New Zealand's focus has been on marketing its wines as premium and distinctive. In the upcoming years, the quality levels, reputation and bargaining power should be maintained until they hit their upper limit. New Zealand does not have the abundance of land or cheap labor to enter the world of bulk wines, and might have a difficult time competing with countries like Chile or Australia. This would also cheapen its image in consumers' minds, which might move on to the next thing.
Everyone has followed the trend of making premium wines, and this has had its consequences. There are few lower priced wines available for domestic consumption. Because of this, New Zealand has needed to import lower priced wines (mostly from Australia) to the extent that they now account for 50% of consumption. New producers coming to the market now have to export, and it can be tricky setting it up, especially from such an isolated country. This has caused New Zealand to become export dependent as well as partially import dependent.
The current leading markets of England, United States and Australia should be maintained, but wines should be positioned in new markets as well. Japan and China are seen as two major and emerging markets 6vgnzua. The pressures or sustaining demand for a premium product mean that new avenues for sales must be constantly pursued. Otherwise, excess will lead to price cutting and a possible collapse. Every New Zealand wine to hit the market has the potential to weaken the industry as a whole. This must be avoided with careful management and ensuring quality is kept high.
Thank you to Michael Kirstein at Villa Maria for sending me some bottles to try, and for motivating me to research and write this article.  You can learn more about and purchase Villa Maria wines at <a href="http://www.villamariawine ventolin australia.com/">http://www.villamariawine.com/
New Zealand Wines Tasted
Your basic NZSB – Grapefruit, canned mandarin oranges, lemon and a touch floral, like lilacs. Steely tasting. Thin with high acid. Finish is peachy and grapefruit. Very refreshing, good for the beach. Simple but good. I would pair this with a goat cheese salad or Minestrone.
Villa Maria Cellar Selection Sauvignon Blanc 2015
A little effervescence upon opening. A much riper and more tropical smell than your typical NZSB – Lychee, pineapple, soft pear and bananas. A much rounder mouthfeel and less acid. Smoother as well. I can see this wine being accepted by the Chardonnay fan. This would pair well with fish or chicken dishes.
A single vineyard Sauvignon Blanc from the hotter and dryer Awatere valley. This wine really shows terroir, with aromas of alpine meadow white flowers, wet gravel you might find by a creek, kiwi, passionfruit, mango and chalk. Medium high acidity and body. This finish has flint and bell pepper. If their Private Bin SB is about pure fruit, and the Cellar Selection showcases winemaker style, then this conveys place. It would appeal to the Sancerre or even Riesling drinker. Good food pairings could be baked goat cheese or pork dishes.
My kiwi friend brought this back for me. Screw cap, pale lemon color. Mostly tropical nose with pineapple, honeydew, and banana all taking their turn at bat. Also pear, lemon, and honeycomb. Striking acidity for new world Pinot Gris. Full bodied but with an angular waxy bean finish. Would pair with lobster ravioli or ham.
After trying three Australian Shiraziziz this month, I figured I would try a New Zealand version. Medium ruby color with a blueberry dominated nose. The supporting cast includes raspberry, iron (rare steak), menthol, liquid smoke, tomato, band aid and Worcestershire sauce. Medium body with fresh berries and cherries, meatiness and vanilla. Much less tannin and alcoholic hotness than an Aussie Shiraz, but more funky.
https://maxnapatours.com/wp-content/uploads/2017/01/New-Zealand-Sauvignon-Blanc.jpg
720
1280
Max Roher
https://maxnapatours.com/wp-content/uploads/2015/06/logo_top_transGrey3.png
Max Roher
2017-01-21 11:53:57
2018-07-04 06:45:31
New Zealand Sauvignon Blanc