Crémant
The term Crémant is used to designate sparkling wines made by méthode champenoise but falling outside the boundaries of the Champagne region. The secret of how to make Champagne was eventually leaked and other regions started producing their own fizz. These were produced by Method Champenoise, just like Champagne, although they might slightly lower pressure. Champagne eventually decided to ban the use of the words 'Method Champenoise' outside of Champagne, so these wines became known as Crémant. In return, Champagne stopped using the term Crémant on their bottles. Rules for Crémant are stringent, including whole bunch pressing, maximum yields, 9 months tirage, and wines must pass a tasting panel.
Crémant d'Alsace
Alsace is the most important producer of Crémant today, with 33 million bottles annually, or half of France's production. 14% of Alsatian wines are sparkling. They're known for their fine mousse, light bodied and high acidity. Grape varieties permitted are Pinot Blanc, Pinot Gris, Sylvaner, Auxerrois and Chardonnay for white, and Pinot Noir for Rose. Chardonnay grows only for sparkling wine in Alsace. Chasselas and Gewurztraminer are not allowed.
The most common type of is Crémant d'Alsace is Pinot Blanc grown in fertile soil on the plains below.  It is often made from vineyards that are not the best quality, which is a huge differentiating factor when comparing to Champagne. Most grapes are picked too early, and exhibit green fruit and very high acidity. Pinot Gris makes a higher quality Crémant, but as these grapes can sell for a high price as non-carbonated wines, they are often expensive. In blending, a small percentage of Pinot Gris will improve quality in Pinot Blanc. Riesling can also be used to enhance freshness and complexity. However, it has too much petrol which can overpower the delicate autolysis flavor. Crémant Rosé and Blanc de Noirs are only from Pinot noir tend to be more consistent.
Crémant d'Alsace wasn't officially recognized until 1976, although sparkling wines have been made here since the late 19th century. Yields are restricted to 80 hectolitres per hectare (4.5 tons per acre), which is higher than Champagnes 66 hectolitres. The wines are required to be made traditionally and spend nine months on the yeast. 'Emotion' is the premium tier of Crémant d'Alsace. It is equivalent to the Prestige Cuvee's of Champagne, but still costs a fraction of the price. Emotion must be 75% Pinot Noir, Pinot Blanc and Chardonnay from riper grapes with longer aging time.  It typically comes in a taller thinner bottle.
Crémant de Bordeaux
Crémant de Bordeaux appeared in the late 19th century, but today it is small and declining industry. There are very few designated sparkling vineyards, and only a few companies make it. Cordeliers is the oldest producer of Crémant de Bordeaux from 1890. Some feel sparkling are the dumping grounds for unripe grapes from poorer areas or vintages. Others point out that Crémant is often made as an afterthought. Crémant de Bordeaux can be made from any of the Bordeaux grapes; Semillon, Sauvignon Blanc, Muscadelle, Ugni Blanc, Colombard, Cabernet Franc, Cabernet Sauvignon, Merlot, Malbec, Petit Verdot and Sauvignon Gris. Yields are only slightly higher than Champagne at 72 hectolitres per hectare. Wines can be white or pink, and must have 9 months on lees and a minimum 3.5 bars of pressure. Producers are increasing, but most wines have no clear identity, and are decent at best.
Crémant de Bourgogne
Crémant de Bourgogne was the first Crémant appellation in France, created in 1975. Many felt sparkling belonged in Champagne, so most Sparkling Burgundy was consumed locally. Once Champagne experienced a worldwide boom, people looked toward burgundy as conditions are ideal. The Côte Chalonnaise is a center for sparkling wine, and Chardonnay and Pinot Noir here have the high acid needed for Crémant. The other regions are mostly in northerly enclaves, such as Châtillonaise, or Yonne and Auxerre in Chablis. As one might expect, Crémant from the south of Burgundy are more full and soft, while the north is lighter and crisper.
Wines are most often Chardonnay or Pinot Noir. Other grapes permitted are Aligoté, Pinot Gris, Pinot Blanc, Sacy and Melon de Bourgogne. Gamay Noir is also allowed, but cannot exceed 20% of the blend. Aligoté adds a delicate spice. 100 liters of wine made from 150kgs (26 gallons can be made from 331 pounds of grapes). After initial fermentation, the wine undergoes a second fermentation inside the bottle (similar to Champagne) and aged for 9 months (less than Champagne's requirement of 15 months). Some Crémant sit on the lees much longer. Most sparkling Burgundy is best consumed within two years.
Crémant de Bourgogne has its problems as well. Most are made in huge factories lining the AutoRoute, who sulfur them too much. As in many Crémant regions, most growers need to be persuaded to grow grapes for sparkling, as the other option is relying on sub-standard grapes.
Crémant de Die
Crémant de Die is made in Diois between northern and southern Rhone, around a tributary of the Rhone River called la Drôme. Crémant is produced from a minimum 55% Clairette grapes, 10% Aligoté, and 5-10% Muscat a Petit Grains. Vine density is 4,500 vines per hectare, much lower than the 8,000 required in Champagne. Maximum yields are 60 hectolitres per hectare, but this may be lower due to spacing. The Cellier Hannibal is the largest producer, making 75% of all bottles.
Crémant de Jura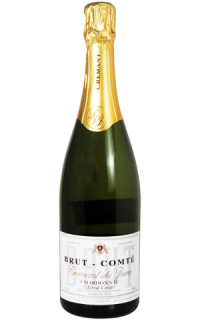 This appellation origine controlee (AOC) in eastern France was created in 1995 and has had much success.  By 2005 Crémant de Jura was 20% of wine produced. White or Rosé are allowed. White must be at least half Chardonnay, with Pinot Noir and Trousseau. Rosé must be at least half Pinot Noir or Poulsard. The balance can be from any grape allowed in Jura. The grape Savagnin makes an interesting Crémant. The largest producers have their own bottling, which they also let small producers use.
Crémant de Limoux
Crémant de Limoux is located in a cool high altitude corner of Languedoc. The appellation was created from the more internationally styled sparkling wines. To qualify; wines must be 90% from Chardonnay and Chenin Blanc. Pinot Noir and Mauzac can only be 10%. About 300 growers make most Crémant at a co-op. Crémant de Limoux is not to be confused with Blanquette de Limoux, another sparkling made from the local Mauzac grape. The two wines give consumers the choice between the more traditional and the more modern.
Crémant de Loire
Crémant de Loire includes Anjou-Saumur and Touraine, regions which can be blended together. Chenin Blanc makes the largest proportion, which is grown in the west. The east contributes Chardonnay and Cabernet Franc in smaller quantities. Sauvignon Blanc is not allowed to be in the blend. Cabernet Sauvignon, Pineau d'Aunis, and the local varieties Grolleau and Arbois may not exceed 30%. Crémant grows in clay soils, because they are cooler and retain acid. Yields are to be kept below 74 hectolitres per hectare.
Saumur, with its soft volcanic ash and limestone soil called tufa, is the largest producer of Crémant, and is allowed to blend 20% Chardonnay and 10% Sauvignon Blanc. Vouvray is another producer and tends to yield more Crémant in cooler years. Saumur makes Crémant from Cabernet Franc, and these bottles are often labelled Mousseux. Touraine has excellent potential, as Chardonnay and Pinot Noir grow here, but they have not yet found their voice. Mechanical harvesting is allowed in parts of the Loire, particularly Saumur and Vouvray, which contrast Champagne. Like other Crémant, they must be aged on lees for 9 months. Good quality wines from 200 producers.
Luxembourg
This has been the only area outside of France to use the word Crémant, and it follows the same rules as any of the French regions. The AOC was created in 1991, and wines are made in the traditional method with 9 months on yeast before disgorgement. Grapes are Elbling, Pinot Blanc, Auxerrois, Riesling, Pinot Noir, Rivaner (Müller-Thurgau) and Chardonnay. The firm Vimmoselle produces three-quarters of the total production, and almost never leaves the country.
Other Sparkling Wines of France
Blanquette de Limoux Méthode Ancestrale
Blanquette de Limoux is the oldest and most traditional sparkling wine from southwestern France. It is made from 90% Mauzac, with Chardonnay and Chenin Blanc constituting the other 10%. Blanquette de Limoux was formerly known as Vin de Limoux. When Crémant de Limoux (Chardonnay and Chenin Blanc based wines) broke away in 1989, everyone thought it would take over and the more traditional Blanquette would fade away, but this has not been the case.
Blanquette de Limoux became an appellation in 1990.
Méthode Ancestrale means that the wine does not undergo a secondary fermentation, just a lengthy primary fermentation. Wines are fermented in stainless steel tanks and transferred to bottles when only partially fermented at 4-5% alcohol. The first fermentation finishes inside the bottle, bringing the alcoholic strength up to 5-6%. The minimum potential alcohol level must be at minimum 10% with 3 bars of pressure; however, there is no control of alcoholic strength or age on yeast. Disgorgement is not performed, yeast is present and can cause the wine to be cloudy. The result is a very sweet wine with 68-84 grams of sugar per litre. This is a very old style of making sparkling, and wines taste like ripe apples with a soft sweet finish. In style, they are most comparable to Asti.
Blanquette de Limoux Cuvée Berléne 2012
This wine hails from a high altitude, cool corner of the Languedoc in southern France.  Wines are made from the local Mauzac grape, with a little Chardonnay or Chenin Blanc added if needed.  The nose offers lime, lemon, banana, mango, soft cheese rind, chalk and mushroom.  Dry, and more full-bodied and intense than expected.  Tastes of lemon and sour bâtard.  Great fruit and yeast balance.  Would definitely buy again.
Clairette de Die
Clairette de Die is a dry to off-dry sparkling wine produced from 100% Clairette. The vines grow in high altitude chalk vineyards along the Drôme River to the east, but still in Northern Rhone. Wines are made by the transfer method and sit on lees for 9 months. The yeast is then removed by disgorgement, but it differs from Champagne in that the wine is moved to another bottle. This must be done under pressure, as Clairette is an old variety making alcoholic whites that oxidize easily. Clairette de Die AOC wines have a maximum alcohol of 13.5%, with 3.5 bars minimum of pressure. The wines have less than 15 grams per litre of residual sugar.
Clairette de Die Méthod Dioise Ancestrale (Tradition)
Clairette de Die Méthod Dioise Ancestrale is a sweet, low-alcohol wine made from a minimum 75% Muscat Blanc a Petits Grains. This gives the wine grape and honey aromas. Clairette makes up the difference. Although it is called Clairette, this wine technically does not have to contain any of that variety. The Méthod Dioise process involves pressing and filtering grapes, which are then kept at sub-zero temperatures. They are then cool fermented to 3% alcohol and bottled.  The leftover sugar starts a second fermentation in the bottle, which will bring the wine up to 7 or 8% alcohol. The fermentation will stop naturally as a result of the pressure created, which should be a minimum of 3 bars. It ages with lees for four months and rebottled under pressure.  The yeast is then removed and wine is filtered and moved to another bottle. There is no dosage or last-minute adjustments allowed.  Some are sweeter than others, but all must have 35+ grams of suger per litre. These wines differ from other method Ancestrale wines in that the wine is filtered.  The majority of wines are produced by the co-op, and made in large scale. Sediment is removed as the general public does not accept cloudiness.
Bugey Methode Ancestrale
Bugey is a small mountainous region in the east of France, growing Gamay Noir and Poulsard.  This is my first Méthode Ancestrale wine, which predates the traditional method.  It is fermented until 6% alcohol, then bottled while the fermentation is still happening.  About 2% more of alcohol is added, and the 3 atmospheres of pressure created kills the yeast, leaving it sweet.  It is a medium pink color, with a nose of cherry, strawberry, watermelon, robotussin.  No tannin.  Clean and bright.  What I imagine sparkling Beaujolais might taste like…
Sparkling Wines of Italy
Franciacorta
Italy has over one hundred DOC's which may be Spumante, however, most of these are produced via the tank method. Italy does offer a DOCG wine made in the traditional method, and this is Franciacorta. It is made in Lombardia near the town or Brescia, in a hilly area south of Lake Iseo. The area was "discovered" when Berlucchi Spumante launched a series of wines called Franciacorta in the 1960's. Today, sparkling wines make over half of regions production. Leading producers are Ca da Bosca, Bellavista and Cavalleri.
Franciacorta has a continental climate but the lake has a moderating effect on the surrounding vineyards. Mineral-rich soils support Chardonnay, Pinot Blanc, Pinot Noir and Pinot Gris, which are the only grapes allowed. Franciacorta has strict limits on vine density (4,000 vines per hectare), and yields (10 tons per acre). Cordon and VSP training are used for training vines, while Geneva Curtain is not allowed.
There are only 104 producers in Franciacorta, but quality is very high. 13 million bottles are produced in a region looking to mimic Champagne. Like Champagne, most bottles are non-vintage, but this Italian has longer aging times at 18 months on the lees, then released 25 months after harvest. Saten Brut is unique to this region and is only made from Chardonnay and Pinot Blanc. Invented at the Bellavista winery, it has less pressure, giving it a smooth demeanor. Rose must be at 25% from Pinot Noir. Franciacorta Millesimato is required to be 85% from a single vintage and aged 30 months on the lees. Franciacorta Riserva is the top of the line and is a vintage wine that has been on the lees for 60 months. Chardonnay makes up the majority of all the wines in the region.
Prosecco
Prosecco comes from the Italian states of Veneto and Friuli-Venezia-Giulia. Prosecco used to be the name of the grape, and could be made anywhere in Italy. Once it achieved international fame, producers fought for exclusivity of the word. They expanded the region to include the town of Prosecco, and created a DOC. The grape then became known as Glera. Now no one outside of the area can use the word.
The region has a warm continental climate. Glera (neutral, lemon, floral) is often blended with Glera Lunga (spicy, concentrated, 15% of blend). Other grapes allowed are Verdiso, Perera, Bianchetta, Trevigiana, Pinot Noir and Chardonnay. Prosecco differs from Champagne in production as produced using the tank method (Metodo Italiano, Charmat process). After the first fermentation, the wine undergoes secondary fermentation in pressurized stainless steel tanks. It is then bottled under pressure. Glera is best suited for this, as its fruitiness is preserved. About 90% of Prosecco is Spumante, and 10% Frizzante (slightly sparkling).
Prosecco DOC can be made anywhere in a vast area including Veneto and Friuli-Venezia-Giulia.  Growing in popularity, Prosecco is an easy to drink neutral wine.  Most is extra dry (12-17g/l), and a small amount are Dry (17-32g/l).  A larger percentage are becoming Brut (0-12g/l).  This is the fastest growing category.
Prosecco di Treviso is a smaller but higher quality area.
Conegliano Valdobbiadene Prosecco Superiore DOCG is the best and most classic area.  Some want to separate this region from using the Prosecco name, but the word is difficult to say, and many just refer to them as Prosecco Superiore.  Wines are fruitier and more tropical.  There are 43 Rive, or Crus. The small Asolo area was just awarded DOCG status
Superiore di Cartizze is a grand Cru vineyard, and considered to be the best. Prosecco is not usually on the label.  There are 106 acres of old Glera vines on this hill, making the best of the best.  These are light and creamy wines with medium sweetness.
Lamarca Prosecco DOC
Prosecco is a large area covering Veneto and Friuli in NE Italy.  The grape is Glera, and it doesn't really grow anywhere else.  Pale lemon green, with a pleasant fruity nose of peach, apricot, pear, apple blossom and honeysuckle.  Definite sweetness here – maybe 18 g/l making it sec or "dry".  Well integrated creamy mouthfeel and a nice fruitiness.  A shorter finish.
Treviso Prosecco
One of the best bottles of Prosecco I've ever had.  Hard to differentiate from a NV Champagne on the nose: honey crisp apples, pear, peach, lemon, white grapefruit and chalk.  Taste-wise, it is dry with a light body, creamy mousse and very high acidity.  Lemon/pear taste.  The finish is kind of short, and there is no yeastiness.  In this, it is different than Champagne.  There is minerality though…
Alice Prosecco Superiore Congliano Valdobbiadene DOCG
Conegliano Valdobbiadene represents the best 16 Rive (or towns) in the Prosecco region.  The problem is that no one can remember of say that name.  Maybe they should resign to being known as Prosecco Superiore.  The color is a medium gold, darker than Champagne.  The greets you with a savory fennel smell, followed by jasmine, golden delicious apple, pear, pineapple and toasted bread.  Dry, with a lime pith and yeasty palate.  Complex and easy to drink.
Asti DOCG
Asti Spumante has been made since the 1850's. Although total vineyard acreage has gone down since 1960, sparkling wines from Asti have remained popular and there are 80 million bottles produced per year. Asti became a DOCG in 1993. The region covers 10,000 hectares, with 53 communes in Asti, Cuneo and Alessandria. 300 hectares of steep hillsides are considered the best and would like a better designation. 18 large houses control 80% of production, and are centered around the town of Canelli. 650,000 hectolitres or 17 million gallons per year make it the largest of Italy's DOC. There are 6800 growers in total.
Asti is a sweet, fully sparkling wine with 7-9.5% alcohol.  It is made from Moscato Blanco (Muscat á Petits grains) grown between in dense vineyards between 200-500 meters on steep hills. The wine must have minimum alcohol of 9%. Most are made in bulk by large vermouth factories.  It has less noticeable aromas because of the bubbles and alcohol.  The wines have flavors of peach and orange and should be drunk quickly; otherwise wines develop an unpleasant geranium smell. The best and ripest grapes are almost always used for Moscato d'Asti, a different wine.
Asti is made using a shortened Cuve Close method to preserve fruitiness.  Moscato does not age well with yeast anyways. It is pressed with a maximum extraction of 75%, so it takes one kilo of grapes to produce one bottle. The wine is fined and filtered, then brought down to zero degrees.  It stays in this holding tank until a custom order comes in, then quickly fermented in stainless steel tanks and released.  Fermentation is stopped when alcohol reaches a good level, and bottled with residual sugar.  Wines can be as young as more month after harvest, but are never more than a year old.  Wines that are one month old have the last year blended in for consistency.  Time in a bottle and sunlight destroy the freshness quickly.
Moscato d'Asti shares the same borders and is also made from Moscato, but it is slightly petillant with a maximum of 1.7 bars of pressure. It can be sealed with a normal still wine cork.  Moscato d'Asti is only 4.5-6.5% alcohol and is often classified under the white wine section in stores. The highest quality wines come from small producers.
G.D Vajra Moscato d'Asti 2013
A charming frizzante moscato, with a nose of apple sauce, geranium, nectarine, orange blossom, macadamia nuts and grandmas lavender soap. Sweeter than the nose would suggest; maybe 5-7% residual sugar? Sweet enough to be sticky anyways.  The palate has a beautiful foamy mouthfeel which makes the wine weightless.  Some orange sour gummy candy on the finish.  Pairs well with any kind of cake, but a little sweet to drink more than a small glass.
Lambrusco

Lambrusco is an Italian Sparkling DOC and also the name of the grape that makes it. The DOC is located in Emilia-Romagna, with a small amount extending into Lombardia. Rich soil in this region can support high production of lightly sparkling, high acid cherry tasting and often sweet wine. Meaning 'wild grape' in Italian; there are 60 different varieties of the Lambrusco grape. It has been called the Coca-Cola grape, and it became popular in the United States and northern Europe in the 1980's.  Since then white, pink and even a light version (alcohol removed) have been created.
There are four different DOC's within Lambrusco that make higher quality wines:
Lambrusco Reggiano DOC grows the grapes Lambrusco Marani and Lambrusco Salamino.  It is slightly sweetened by up to 15% Ancellota grape must, which also gives it a darker color.  It is the largest of the Lambrusco DOC's, with 250,000 hectolitres (6.6 million gallons) produced. It is the lightest of the Lambrusco and wines are usually sweet.
Lambrusco di Sorbara DOC is made from the varieties Lambrusco di Sorbara and Lambrusco Salamino.  This region is considered the highest quality, making the most balanced wines for sparkling production, with a great balance between light tannin and high acidity. There are 115,000 hectolitres produced of dry or off-dry, frizzantino reds and rose.
Lambrusco Grasparossa di Castelvetro DOC is 85% from the variety of the same name. These are also higher quality wines, with the best comparable to Lambrusco di Sorbara. These are the fullest bodied and most alcoholic of the lambruschi, and considered higher quality. There are 65,000 hectolitres of dry or off-dry, lightly sparkling wines made.
Lambrusco Samamino de Santa Croce DOC must be from 90% of the variety of the same name. This clone is known for relative deep color and high acid. The best are as good as Sorbara. There are 55,000 hectolitres produced of dry or off-dry, semi-Spumante reds and rose.
There are rules to follow, but they are generally more relaxed than in the France's Crémant regions. Maximum juice yield is 70 litres per 100 kilograms of grapes. Today, most Lambrusco is made by large wineries and co-ops. Grapes come in from several different Lambrusco areas, and are blended so much that the individual terroir is not detectable. The wines are made by charmat (tank) or bulk method, with heavy filtration, stabilization and pasteurization. Wines undergo a cool primary fermentation to retain fresh fruity aromas, while extracting little tannin. Many of these wines are sweeter, and this is achieved by adding Rectified Concentrated Grape Must (RCGM).
Lambrusco Reggiano
I am trying to broaden my horizons when it comes to sparkling wines and have never had a Lambrusco.  Reggiano is the name of the DOC, which should mean better quality than regular Lambrusco.  Smells simple – like raspberry, strawberry and blackberry.  Like Gamay Noir a little.  High acid and low tannin make for a good sparkler.  It is sweet,  in the sec to Demi-sec range.  In my opinion, it would be better if it were dry.  Great value at $6.42.
Sparkling Wines of Spain
Cava
Cava is Spanish sparkling wine made by traditional method. Unlike champagne or other districts, Cava is a style of wine and can be made in several regions in Spain. The first to make it was Jose Raventos in 1872, with Freixenet following in 1889. The word Cava was adopted in 1990 to stop using the word Champaña. Today, it makes about one-third of Champagne.
About 95% is made near San Sadurni de Noya in Cataluña. Many red vineyards here were destroyed by phylloxera in the 1880's and replanted to sparkling wine grapes. Cava used to be produced anywhere in Spain, but the EU has forced it to be from Catalonia, Valencia, Aragón, Navarra, Rioja and the Basque country. The leading producers are Cordoriu and Freixenet.
Cava is made from Macabeo, Parellada and Xarel-lo grapes. These grow in cooler climates, and in Spain, this means a higher elevation or proximity to the ocean. Limestone soils are similar to Champagne, but they support low-density bush vines, which is opposite to Champagne. Macabeo buds late so it is appropriate against spring frosts, with Parellada at high altitudes and Xarel-ho at lower. Macabeo is neutral and comprises half the blend, Xarel-lo provides earthiness but must be grown at low altitude.  Parellada is finer but low in body. Malvasia can be a minor component, adding structure and aromatics. Garnacha, Monastrell, Pinot Noir and Trepat may also be used for Rosado wines. Chardonnay as allowed in 1986 and there are many new plantings, although some larger companies are opposed to this.
Wines are traditionally made in a similar style to champagne but not as rigorous in some areas.  They must spend nine months on lees and have a least four atmospheres of pressure, as well as between 10.8 and 12.8% alcohol. Spain has a hierarchy for aging its Cava: Vintage and Non-Vintage must be kept on the lees for 9 months, similar to France's Crémant AOC. It also offers Reserva, aged for 15 months, and Gran Reserva, aged for 30 months. The business model is also similar to Champagne, with many companies buying base wine, but several companies also use their own and believe the quality is higher. The Spanish invented the Girasol, or gyro palate and the vast majority of Remuage happens this way in Spain. There are 6,000 growers, 159 base wine makers, a couple that just store the base wine, and 244 producers.
Vinya Celler Masia Suriol Cava Brut Nature
Brut Nature is the driest of the sparkling range, with under 3 grams of sugar per liter. I figured it might taste bitter or austere, but is actually quite nice. Smells of banana, dried pineapple, apricot, dried apple and sour bâtard.  Good concentration on the palate and definition of fruit.  A bit of a waxy and bitter finish.
Segura Viudas Rosé NV
I've had their regular brut before, but never the rosé.  Pink color, with raspberry, strawberry, cherry, fresh baked bread, yoghurt and jasmine.  Dry, but quite fruity.  Higher acidity but not much structure.  Tastes like strawberry and wheat.  Very pleasant, but not a wine for ageing.  Great value at US $8.
Freixenet Cordon Negro non-vintage
Freixenet is Spain's largest Cava, and a fierce advocate of using the traditional Cava varietals of Macabeo, Parellada and Xarel-ho.  Their signature is a special dosage liqueur done Solera style in chestnut barrels.  A pale lemon-green color, and a medium intensity nose of green apple, pink grapefruit, caramel, green chives and chamomile tea.  Dry, with a creamy mousse and lengthy finish.  Tastes like lemon pith and tarragon.  Well-made and a great value.
German Sparkling Wines
Deutscher Sekt
Sparkling wine has been made in Germany since 1783. Today they make about twice as much as Champagne, however very little is exported as Germans consume 25% of the world's sparkling wine. Deutsche means made of German grapes. However, until 1986, Deutscher Sekt was not required to have any German wine at all. Even today, some is illegally blended from the dregs of wines from Germany and other countries, and consumers don't seem care where the grapes come from.
Pinot Noir is particularly successful; also Pinot Blanc, Auxerrois, and Chardonnay are good choices for Sekt due to their neutrality. Riesling cannot produce a Champagne-like wine per se because its strong flavor competes with autolysis.  This is why it is not produced by Traditionelle Flaschengärung (traditional method), and instead by tank to minimize yeast contact. Over 90% of all German Sparkling wines are produced by tank method.
Large companies produce most of the 40 million bottles and are concerned with producing as much as they can quickly for cheap prices. Most is made in bulk by tank method, with under-ripe grapes. This unripeness is covered up by 17 to 35 grams of dosage or chaptalization sugar, making them Trocken or Halbtrocken. These wines are sold as quickly as possible as they have a very limited shelf life.
It is not all large companies running things, as 85% of producers make less than 10,000 bottles. Deutscher Sekt from quality small estates makes elegant fine wines, either in brut or extra dry styles. Riesling is often used because of acidity and flavor, but there are great wines made from the Pinot family as well. Ambitious producers use vats fitted with a large propeller to stir up the yeast once in a while. This was first done by Wegeler-Deinhard from the Doctor vineyard in 1978, 1980 and 1984.  These years were too poor to produce Spatlese wines. The results were favorable, as stirring the yeast gave the wine more body.
Sekt can come from France, Italy, Spain or Eastern Europe
Deutscher Sekt must be from Germany.  It can be from several regions, but the region cannot be mentioned on the label
Bestimmter Anbaugebiete (Sekt bA) is a level up and from a specified region.
Deutcher Sekt BA – from quality German region
Winzersekt – are estate grown and produced by traditional method
Levels of Sweetness in Sekt (similar to Champagne)
Naturherb (brut nature) less than 3 grams of sugar per liter
Extra Herb (extra brut) less than 6 g/l
Herb (brut) less than 12 g/l
Extra Trocken (extra dry) 12 to 17 g/l
Trocken (dry) 17 to 32 g/l
Halbtrocken (semi-dry) 32 to 50 g/l
Mild (sweet) more than 50 grams
Peter Lauer Saar Riesling Brut Flaschengärung
My experience with German Sekt is that they are either too austere or too sweet.  This one escapes both of those pitfalls.  Intense nose of cheese rind, lilac, pineapple, honeydew, peach, nectarine, honey and hawthorne.  Creamy mousse.  Spiced apple and slate taste.  Flaschengärung means made by traditional method.
Immich Anker Riesling Brut 2010
Sparkling Riesling from 100-year-old vines.  Aromas of wet rocks, banana cream and vanilla.  So distinctive from Champagne, with an oily Riesling mouthfeel.  Dry and metallic. Finish is narrow, then super broad then narrow again in about 2 seconds.  Paired with chicharrones, pineapple goat cheese mousse and trout roe.  Sounds strange but it was excellent!
England
Wine has been produced in England since Roman times, although a modern renaissance began in the 1950's in Hampshire. Vineyards are scattered across the southern half of England, with the greatest concentration in the southeast. This is the northern limit of viticulture itself. Vines see fewer than 1000 sunshine hours per year in this cool maritime climate. Frost, poor weather during flowering, autumn rain, uneven fruit set, wayward summers, and wind damage are challenges. Sparkling wines are made in the traditional method, a minimum of 3.5 bars, and a minimum alcohol of 10% and spend at least nine months in a bottle on their lees. The best English sparkling match champagne selling at the same price
Furleigh Classic Reserve English Brut 2010
My first English sparkling wine, and a vintage even!  A friend picked it up at Heathrow airport and was nice enough to share it with me.  The color I describe as onion-skin (brown-yellow), and the nose quite complex.  Interesting aromas include tropical fruit cup, honeysuckle, apple blossom, peanut butter, dried cherries, sage, yoghurt and wheat.  Dried apple and cherry on the palate.  Must be a the upper end of Brut (0-12g/l) as I can detect sweetness. The bubbles were a little lazy.
https://maxnapatours.com/wp-content/uploads/2017/10/sparkling-wines-of-europe.jpg
720
1280
doug
https://maxnapatours.com/wp-content/uploads/2015/06/logo_top_transGrey3.png
doug
2017-10-01 17:37:26
2018-06-14 21:23:26
The Other Sparkling Wines of Europe