Climate – Champagne is one of the most northern regions for fine wine production. This is a marginal climate for grape growing, with an average summer temperature of 60 degrees (16C). Proximity to the sea is the only reason grapes are able to ripen this far from the equator. A long but marginally warm season gives increased acidity. The entire region is devoted to sparkling wine as it would be too acidic for still wine. The goal for sparkling wine production is to make a base wine with ten to eleven percent alcohol. Many areas don't even ripen that much. Frost is a major problem, so the vines are planted on the slopes.
Champagne is west of the Vosges Mountains, so there is much more moisture. 60% of rain occurs in summer and early autumn. However, the Côte des Blancs is a dryer area than le Montagne de Reims. Winter frosts can kill vines, and there are about 1.1 days a year under -10C. Spring frosts destroy leaves and buds such as what occurred in 2003, when the crop was reduced by 48%. June may be cold and wet, interfering with flowering or fruit set, causing Coulure (bud or berry drop) or Millerandage (stunted berries). July and August see violent storms and vineyards can be flooded, or become damaged by hail. In 2000, hail wiped out entire large vineyards.
Soils – Champagne has a variety of soils, but the best are found on hillsides and have a high concentration of chalk. Chalk retains moisture well and produces grapes rich in nitrogen. There is also some Kimmerigian Marl, similar to Chablis. Soils are generally nutrient poor, becoming poorer as elevation is gained. They need to be fertilized, and there is a movement in Champagne toward sustainable farming. They also have a high PH, partially responsible for the high acidity found in the grapes. The best Pinot Noir vineyards come from the steeper south face of la Montagne de Reims, while the best Chardonnay vineyards come from south of Epernay. Many growers still sell to the big houses, but an increasing number have been making their own wine as well. These grower wines have the letters RM (Recoltant Manipulant) on the label.
Grape varieties – The Champagne region is dominated by three varieties:
Pinot Noir is planted north of the Marne, in the Montagne de Reims. It is also planted in Côte de Bar, which is a region separated from the main Champagne area. As it is a black grape, it has red fruit flavors, with the most structure and tannin. It can be made into Non-Vintage, Vintage, Rose, Blanc de Noir or Prestige Cuvee.
Chardonnay dominates south of the Marne, in Côte de Blanc and Côte de Sezanne. The majority of vineyards face south and east like Burgundy. Champagne made from Chardonnay is light bodied with high acidity. They are usually floral and have citrus flavors. Chardonnay can be used in Blanc de Blanc, where it is blended with other white grapes native and allowed in Champagne. It also can make vintage, non-vintage, Rose and Prestige Cuvee.
Pinot Meunier is the third varietal used in the production of Champagne. It is not as fine a wine as Pinot Noir, but is fruity and approachable sooner. It is planted most heavily in la Vallee de la Marne in the west. Spring frosts are an issue here, so Meunier is a good choice as it buds late.
There are also small amounts of native varietals that can be used in the blend. These include Arbanne, Petit Meslier, Pinot Blanc and Vrai.
Vines on their own rootstocks suffer from chlorosis, a disease which causes the yellowing of leaves. The high levels of lime found in Champagne lock up the iron needed for photosynthesis. Rootstocks are selected primarily based on their lime tolerance and include the popular 41B, as well as S04 and 333EM. The French Minister of Agriculture has set a limit of 1% or less growth per year for Champagne, but some new vineyards are planted every year. Vines are spaced at a maximum of 1.5 meters apart, meaning vineyards have roughly 3,200 vines per acre (8,000 vines per hectare). The close proximity forces the vines to compete for water and nutrients, increasing quality.
Vines are spur-pruned, leaving large amounts of permanent wood as protection from frost. Cordon Royat is still the preferred training for Pinot Noir, although Jacquesson and others are using a permanent arm. Taille Chablis is used for Chardonnay, and Vallée de la Marne pruning for Pinot Meunier.
No mechanical harvesters are allowed in Champagne, so all must be picked by hand. Harvest can happen as early as August or as late as November. Rain often disrupts flowering leading to two crops. The 2nd, known as the bouvreux, rarely ripens and the fruit is left to the birds. Most grapes are still pressed via the Coquard press, but pneumatic presses are becoming more common.
Regions:
The Montagne de Reims is a wooded hilltop at an unimpressive 275 meters above sea level. It suddenly juts out from the corn fields 90 miles (150km) east of Paris. There is no chance of ripening grapes on the chalk plain below as it is too exposed to wine and rain, but grapes survive clinging onto the hillsides. Here, they receive protection from the elements as well as maximum sun exposure. Vineyards ring the mountain in a backwards C formation, growing at altitudes between 380 to 640 feet (120 -200 meters). The best villages are Verzy and Verzenay in the northeast and Bouzy and Ambonnay in the southeast, and these are mostly planted to Pinot Noir. Chardonnay is planted in eastern slopes to take advantage of the morning sun, while Pinot Meunier is located on a northwest extension called Le Petit Montagne. The south slope of Le Montagne de Reims is planted to Pinot Noir and Meunier.
The soils are brown coal lignite and gravel over a limestone (chalk, marl and limestone proper) subsoil. This gives champagne it distinctive mineral taste. The chalk soil is present in the best vineyards around the Champagne region, and helps the vines by holding moisture, as well as being porous for the hundreds of caves dug under the mountain. The chalk is often buried in Montagne de Reims and vines need to dig to find it. Slope Wash (composite rock) is considered the second best soil.
The North Slope is harder to ripen, but the cold air descends downhill and is replaced with warm air from the mountain above in the evenings. This is the only reason grapes can be grown here at all. The constant but moderate rainfall ensures that vines have just enough water to produce quality fruit. Hail is an issue, with storms destroying leaves and grapes alike. Most storms come in from the Atlantic, and the mountain gives some shelter. Frost is another obstacle, with some areas averaging 3 days below -10 degrees. These temperatures are enough to kill vines outright.
Le Montagne de Reims is planted to 40% Pinot Noir, 36% Pinot Meunier and 24% Chardonnay. Small amounts of other legal grapes are grown. They include Arbanne, Petit Meslier, Pinot Blanc and Vrai but these altogether make up only 0.3%. The best vineyards are planted to Pinot Noir, with Chardonnay on the east slope and Meunier on the north. The best vineyards have an east to south aspect, exposure to morning sun, chalk soil that reflects and stored heat, and protection from westerly storms.
Wines from the Northern slope wines are darker and have more acid, while the Southern slope wines have more aromatic character and deeper flavour. Best northern villages are Rilly-la-Montagne, Mailly-Champagne, Verzenay and Verzy. The best southern villages are Ambonnay and Bouzy, as they are located in a natural south-facing amphitheater.
The Côte des Blancs district of Champagne is just south of Epernay and le Montagne de Reims. It is another wooded hilltop with vines planted beneath. Vines grow at altitudes between 380 to 640 feet (120 -200 meters). There is nothing but vines for about 9 miles (15km), as you travel through the Grand Cru villages of Cramant, Avise, Oger and Le Mesnil-sur-Oger. The reason is the limestone and chalk soil.
Active lime found in limestone lowers the PH of a wine, and most limestones have about 20% active. Champagne is over 40% active, giving the wines much more acid. The Côte des Blancs has extensive chalk deposits. The topsoil is generally clay, but pockets of chalk make their way through to the surface. Where this happens to white color reflects back onto the wine helping it mature faster. Austere and impoverished white chalk, reflects and absorbs heat, and stays damp. This keeps the vines from dying from drought during the occasional dry summer.
The Grand Cru villages are located in the north as the soil is made of chalk. Lower areas or creek beds are clays and argillaceous alluvium and are considered lower quality. To the south, the soil has less chalk and more rock, and wines are still great quality. Behind the cote lie the towns of Pierry, Mancy and Grauves and these produce good quality wines as well.
The Côte des Blancs is planted to 82% Chardonnay, and 9% each of Pinot Noir and Meunier. The very name Côte des Blancs comes from it abundance of Chardonnay grapes grown here.
The CIVC (Comité Interprofessionel du Vin de Champagne) lists 11 Chardonnay clones which may be grown.
Taille Chablis is used for over 90% of Chardonnay vines in Champagne. It is essentially a slanting bush unsupported by a central post. 3 to 5 long canes are tied to a wire, all facing the same direction, and new growth is from long canes with several buds on them. Each year a new branch is grown. A three-year vine will have three branches, a four-year vine with four branches and so on. Vines must be at least 3 years old for Champagne AOC. Taille Chablis requires more man hours but the greatest density per acre.
Chardonnay from the Côte des Blancs gives elegance, structure and finesse to the blend. Many of the wines are sold unblended as Blanc de Blanc, a rarity in Champagne. Many vineyards are becoming more sustainable. Sustainable practices include the reduction of additives, preservation of landscape, management of water and waste, and helping with climate change.
Grapes are pressed either by traditional Coquard press or a more modern horizontal bladder press.
These are many of the most sought after wines in Champagne, as they are delicate while having the most intensity and potential to age. They bring fragrance and lemony zing when young, and soft toasty and creamy notes when mature. Four towns in particular; Cramant (most delicate), Avise (harmonious), Oger (mineral) and Le Mesnil-sur-Oger (razor-sharp) are considered above all.
The Vallée de la Marne begins in the towns of Avenay and Mareuil and travels west. The eastern vineyards are higher quality, and the best have a southern exposure with chalk soils.
Northern banks have a southern aspect and are considered superior to the south bank. Äy-Champagne is on the south facing chalk wall over the river and produces beautiful Pinot Noir.
West of Damery, the valley becomes narrower and wetter, while the soil changes to clay and sand. Neither Pinot Noir nor Chardonnay will ripen in these conditions, so it is planted to Meunier. Western vineyards do not fetch high prices, with the exception of the south bank village of Leuvrigny, considered the highest quality town in the western Marne. It provides Pinot Meunier for Krug, Deutz and Roederer.
The soils at the western end of the valley are mostly clays. The cool temperatures make the clay soils too cold to ripen Chardonnay or Pinot Noir. Soils have more sand in general, with vineyards closest to the river having the highest proportions. Vineyards higher up the valley have more rock, and the best are chalk. Chalk holds enough water to give the vine a drink, but not enough to drown it.
The Vallée de la Marne sees the most maritime influence in the form of lower temperatures, less temperature fluctuation and steady rain. However, it also experiences continental influences such as more days of sun and frosts. Spring frosts often damage young leaves and buds, especially in lower elevations, so the Pinot Meunier budding two weeks later is a sound choice. The Vallée de la Marne is planted to 62% Pinot Meunier, 22% Pinot Noir and 16% Chardonnay. Summer days are longer than most other regions and this is needed as grapes marginally ripen.
Organic viticulture is difficult because of cold and damp climate. There was also a large winter freeze in 1985, so average age of vines is young here. Meunier is grown down by the river because of springs frosts and its ability to grow in soils with a high proportion of clay and sand. Chardonnay and Pinot Noir occupy higher and warmer sites. The most favorable rootstock for clay soils is the 41B. Vallée de la Marne pruning is used for Meunier vines, using long pruning on short canes.
There are some excellent villages here, particularly Aÿ-Champagne and Mareuil-sur-Aÿ.
Vallee de la Marne is south of la Montagne de Reims and some of their wines are as good. Moving westward, the proportion of Pinot Meunier increases and wines become easy drinking and fruitier, but with less potential to age. Added to the blend, it gives plump fruitiness and roundness, as well as a pleasant mildness that softens the other two varieties.
The Côte de Sézanne is a rapidly developing area about 10 miles south-west of the Côte des Blancs on another mountain range. Like its more famous neighbor, it has chalk deposits that reach the surface. The chalk is made of calcite granules left over from marine phytoplankton. It is highly porous and retains up to 400 liters of water per square meter. This keeps the soil moist in dry summers and prevents the vines from dying. The best villages are Bethon and Villenauxe-la-Grande. However, most soils are clay and argillaceous alluvium and not considered as great. To the east lies a small region called Vitry-Le-Francois and this also has some good chalk soils.
The Côte de Sézanne is planted to 64% Chardonnay, 21% Meunier and 15% Pinot Noir. It clearly favours Chardonnay grown on Taille Chablis, but wines are fruitier, heavier and have less finesse. They can also sometimes be musky or rustic. On the positive side, they make softer rounded wines that are approachable earlier. The style is well suited for those who drink New World sparkling but are unaccustomed to the classic style of champagne.
The Côte de Bar (Aube) is an hours' drive south from the rest. It is closer to Chablis than the heart of champagne, and also on similar soils. For centuries, neither Champagne nor Burgundy wanted to include this area, but it finally was included in 1927 after years of blockage by the Marne growers. Then for years it was forced to proclaim 'Champagne Deuxiéme Zone', meaning it was inferior. A pure chalk subsoil (as deep as 1000 feet) exist in all Champagne vineyards with the exception of those around Aube. The Champenoise argue that this chalk, (and cool climate) make their wines superior to the rest of the world. The name was later changed to Côte des Bar.
The Côte des Bar is mostly Marls (Calcareous Clays), with a few vineyards being hard and soft limestone and calcareous clays. Best sites have Kimmerigian limestone and Portlandian limestone like Chablis. The best villages are Celles-sur-Ource, Les Riceys, and Urville. These wines are better than those in the outer area of the Vallée de la Marne around Chateau-Thierry.
The climate here is more continental, with hotter days and cooler nights. A larger diurnal gives fruit ripeness and roundness, with earth and raspberry fruit. The annual temperature is 12 degrees, and about 1,700 hours of sunshine. In hot years such as 1976 and 2003 they recieved over 2,100 hours. Any further north the grapes wouldn't ripen, any further south they would lose acidity.
The Côte des Bar is planted to 87% Pinot Noir, 7% Chardonnay and 5% Pinot Meunier. The clay soils give the vines wet feet and Pinot Noir does best here. Being situated further south has its advantages. Wines are ripe, fruity, and sometimes rustic. The slopes west of Troyes are pure chalk, and this does very well with Chardonnay. Hopefully more will be planted.
Cordon de Royat is a spur trained Simple Guyot. Pinot noir is typically Spur Pruned on a single old cane tied to a wire, or from 1 or 2 of last years' canes long pruned. They all have single arms, with 4 to 8 spurs. Double arms are rare, and this is usually done to replace a missing vine on its' blind side. Spur pruning is usually used in areas of ample sunshine and irrigation. However, in Champagne, it is used as more permanent wood safeguards better against spring frosts, and because very high yields are wanted.
There are more growers bottling their own wines today, but the vast majority is trucked northward for blending by large houses into non-vintage wines. Pinot noir gives perfume, backbone, body and richness to the blend. The Côte des Bar now accounts for nearly half the Pinot noir grown in Champagne.
Champagne tasted (in alphabetical order):
Ayala Cuvée Perle d'Ayala 2005 – 4 stars out of 5
Life is always great when there is Champagne involved! An old 1870's firm purchased by Bollinger in 2005. The style is more elegant but less concentrated than Bollinger Champagne. One might group it with Ruinart or Henriot. 80% Chardonnay from Grand Cru vineyards. A lighter nose of grapefruit and perhaps a little honeydew. It might just be this bottle, but the bubbles aren't as vigorous. The taste is skeletal, crisp and saline, especially for a Prestige Cuvée.
Billecart-Salmon Brut NV – 4 stars
If Bollinger is Bolly, then I'm calling this "Billy". A pale lemon colour with a riper nose of golden delicious apple, pear, lime, brioche and graham cracker. Acidity is lower than other Champagne, with grapefruit, raspberry and cherry flavours on the palate. A great lingering finish full of distinctive wet granite. Light fresh clean style. My first from this house, but have a Rosé in the cellar. Stay tuned!
Billecart-Salmon Brut Rosé NV – 4.5 stars
Wow. Everything about this rosé is amazing. The colour is rose-gold, but sometimes orange and sometimes copper. The nose has many flavours usually not associated with Champagne; Orange creamsicle, tangerine, peach skin, mango, red cherry, passion fruit and strawberry. Some nice petrol and toasted bread notes, but they are not dominant. Dry, but fruity. Tastes like pink grapefruit, cherries and fresh bread. Fruit, acid and yeast are perfectly balanced. Great concentration and a long finish.
Bollinger Extra-Brut R.D. 2002 – 5 stars
R.D. (Récemment Dégorgé) is the same wine as Bollinger's Prestige Cuvée, La Grande Année but it is further aged another 9 to 10 years on lees. This is done to add a yeasty and bottle age dimension to the bouquet. As promised, it has intense aromas of brioche, nuts, mushroom, marzipan and coffee. No fruit at all. But in taste there is lemon, dried peach and mixed red berries. The mousse is lighter, either from age or from tirage under cork. 60% Pinot Noir and 40% Chardonnay from my favorite year in Champagne.
Bollinger La Grand Annee 2005 – 4 stars
Everything about the way Bollinger is made is different. 70% Pinot noir lends weight and a later harvest date gives more ripe fruit. It is fermented in barrel, then aged in oak for 6 months in oak. Some barrels are over 110 years old, so there is no woody taste. The wine is then riddled and disgorged by hand!
A prickly nose full of primary fruit, contrasting the oxidative style of past vintages. Easily discernible flavors of ripe Apple, pear, peach, coconut, brioche and vanilla. More toasty than yeasty.
Diebolt-Vallois Brut Blanc de Blancs Fleur de Passion 2006 – 3.5 stars
The grapes from this wine are sourced from 60-80-year-old vines in the Village of Cramant. In terms of Champagne, it has a less mineral nose and lighter, more delicate body. I think of white flowers, like orange blossom and honeysuckle. A bit of oak as well?
Dom Perignon Oenotheque Brut 1996 – 5 stars
Wow!!! This was my favorite of the bunch before I even knew what it was. Much more intense nose (despite being the oldest) of cider apples, white mushrooms, pralines, jasmine, hardtack biscuit and pistachio. Filigreed and fine-drawn. Cushiony mousse.
Dom Perignon Brut Rosé 2004 – 4.5 stars
24th release of the Brut Rosé. First pick of all Moët et Chandon vineyards, from the high yielding 2004 vintage. Production is a mystery, but I know it is about 60% Pinot Noir, and made in the absence of Oxygen, (meaning no oak). Nose of red cherry, strawberry, raspberry coulis and earth.
Elegant, high yeast and mineral. Strong Burgundy character. Moët controls 1/4 of all wine in Champagne!
Dom Perignon Brut 2005 – 4 stars
The production goal of Dom Perignon is to craft a wine that is easily approachable in its youth, yet can age. The marketing goal is create a sense of rarity while ever increasing production. Both have succeeded. From 8 grand Cru villages and one Premier Cru, Dom is almost always a 50/50 split between Pinot Noir and Chardonnay. Half Apple/half hardtack biscuit smell and taste, with a yeasty finish. Highly carbonic, but less acid than the 2004. Maybe won't age as long, but sublime now.
Doyard Clos de l'Abbaye Brut Blanc de Blancs Millesime Premier Cru 2009 – 4 stars
Doyard is a grower who makes a mere 4,200 cases, making it much more scarce than the big houses. This is the inaugural release of the Clos d'Abbaye, for the first time bottled on its own in the warm 2009 vintage. 100% fermented in cask for 3 years (on lees), with a small 4g/l dosage. A fresh nose of apple, pear and mineral in that order. A noticeably more gentle and relaxed fizz, maybe four atmospheres? Pale and tangy, with a lemon peel finish.
Egly-Ouriet Extra-Brut Grand Cru VP – 4.5 stars
A small operation of 100,000 bottles from under 25 acres. Green harvesting up to 50% of grapes to craft a riper style of wine. High alcohol for Champagne at 12.5%. Intense medium gold color. 70% Pinot Noir and fermented in wood. This wine is blended from different vintages between 1985 and 1998! The older vintages are evident in the mature smell; sour baguette, pink grapefruit, and gingerbread cookies in that order. Both bright (almost new world) fruit and chalky minerality on the palate. Spicy finish.
Henriot Cuvée de Enchanteleurs 2000 – 4.5 stars
Henriot top cuvée from a ripe vintage. This is current release. All grand Cru, about half Chardonnay and half Pinot Noir. Unique aromas of butterscotch, toffee, coffee, fruitcake and cashews. Mature style taste as well; highly concentrated yet soft and creamy texture, probably from Malolactic fermentation. 12 years on yeast give toast flavors. Lemon and nut finish, even a bit of chocolate.
Henriot Souverain Brut 2005 – 4 stars
Fantastic smoky and toasty nose. Also apple blossom, onion skin and oyster mushrooms. Fresh and snappy. Heavenly.
Charles Hiedsieck Blanc des Millenaires 1995 – 5 stars
This Champagne is a revelation! It has to be one of the oldest current releases on the market today. One of the first wines crafted by Regis Camus, considered by many to be the region's most talented winemaker. All Chardonnay, and aged for 16 years on lees, it gives a glimpse on just how well Champagne can age. The nose offers up aromas of coffee beans, earth, toffee and smoke, yoghurt and lemon candy. Mineral and full bodied. What sets it apart is the incalculable finish; minutes? hours?
Krug Grand Cuvée Brut NV – 4.5 stars
The popular belief is that better quality base wine will need fewer reserves. Krug believes stronger vintages need more reserves to conform it to house style. There are 120 different wines in my glass right now, blended to form this "super-cuvée". The nose offers up apple, pear, lemon and beer. On the palate it is lean and focused, tense and mineral. No malolactic fermentation here, as Krug believe it takes away the wines structure and longevity. 15-20% Meunier helps, adding fruit and softness.
Krug Brut 2003 – 4.5 stars
Vintage Champagnes are exaggerations of that year, and 2003 was so hot a camel died in the Alsace zoo. So how will this affect the wine? A lot of Pinot noir was burned, so this wine has a higher percentage of Chardonnay. Partly due to concentration and partly to age, it is much darker than Krug's Grand Cuvée. Nose has figs, French bread and oriental spices. Palate is full bodied and mineral. A little lower in acid like new world sparkling. What a treat to try these two side by side!
Larmandier-Bernier Terre de Vertus Premirer Cru Blanc de Blancs Non-Dose 2009 – 4 stars
Located mid-slope in Vertus, this SE facing vineyard was singled out and is now bottled on its own. Fermented in both oak and steel and aged on lees for four years, it is perfectly balanced and needs no dosage. It is fresh without being fruity nor earthy. Instead, both nose and palate are highly mineral and biscuity. High and bright acid. I am impressed with this producer and look forward to trying more.
Lenoble Les Aventures Brut Blanc de Blancs NV – 4.5 stars
This must be one the rising stars in Champagne. The Les Aventures is a blend of the excellent 2002 and the great 2006 vintages. 35 year old vines from the Grand Cru village of Chouilly (pronounced shui). A fruity nose of Granny Smith apples, ripe lemons and mixed nuts. Quite structured and rigid from being aged in oak casks, but this is balanced by creamy fruit. Too easy to drink – watch out for this one!
Michele Turgy Blanc de Blancs Reserve NV – 4 stars
Small family grower, with 15 acres in the southernmost Grand Cru Village in the Côte de Blancs. 100% Chardonnay. An intense nose of green apples, lilac and honeysuckle, honey, toffee and spiced cookies. Middle of the road palate, powerful but refined. This "Reserve" was created by blending 30 different harvests together.
Moet Brut Rosé Imperial NV – 3.5 stars
Has a pale salmon color. Nose of strawberry, lilacs, starfruit, cherry, apple and cheese. Dry with ruby red grapefruit and limestone minerality. Creamy aggressive mousse and long finish. I wouldn't call it overly complex, but it hits the spot.
Perrier Jouet NV – 3.5 stars
Garden party, and I find myself next to the champagne table. Coincidence? This was first one I pulled out. Light bodied and chalky. A touch bitter, like grapefruit or lemon peel.
Perrier-Jouet Belle Époque 2007 – 4 stars
Perrier-Jouet is the 10th largest house in Champagne with 160+ acres accounting for 1/4 of production. It probably has the most admired bottle art; released in 1969. 50% Chardonnay, 45% Pinot Noir and 5% Meunier from the murky-weathered 2007. Pale color, with a lighter, more floral nose of lilacs, jasmine, white peach and mineral. Kind of thin. The finesse is there, maybe needs 5 years to plump out.
Phillipponat Clos de Goisses Brut 2005 – 4.5 stars
One of the first single vineyards and it is easy to see why. It is one of the warmest microclimates in Champagne, a steep south facing 12 acre plot in pure chalk. Goisses actually means steep slope in old French. On the darker side for a Champagne. Ripe smell of white cherry, peach, green apple hard candy and toast. Powerful and concentrated like a Burgundy. A ripe style (13% alc.) but no ML. A beautiful mousse and a honey and vanilla finish round it out.
Pierre Gimmonet et Fils Blanc de Blanc – 4 stars
This surprised me. I opened this wine with several others while throwing a party. It had an intense yeasty (autolysis) nose, with nuts, petrol, cheese, marzipan and brandy. Needless to say, it wasn't the crowd fav, and sat unfinished once everyone left. It sat on my kitchen counter for 48 hours at room temperature until I tried it again. Most of the yeast had faded away, replaced with pleasant fruit like pears, lime pith and green apple. How elegant and complex! Long chalky finish, so you know it's Champagne.
Pierre Paillard Bouzy Brut 2004 – 4 stars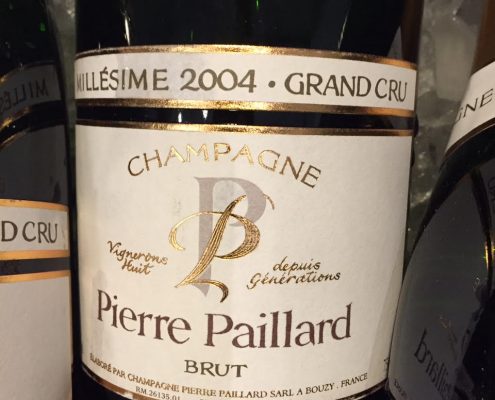 A Grand Cru vineyard from a great year for under $70? Sold! Eighth generation récoltant-manipulant producing 8,500 cases from 20 acres of Grand Cru vineyard in Bouzy. Pinot Noir is planted on the slope, while Chardonnay on the limestone flat. This is about a 50/50 blend of the two. It offers a brighter and riper nose of lemon peel, apple, custard and cream. There is also some coffee from bottle age. Lean and elegant, with a yeasty finish.
---
Pierre Peters Brut Grand Cru NV – 4 stars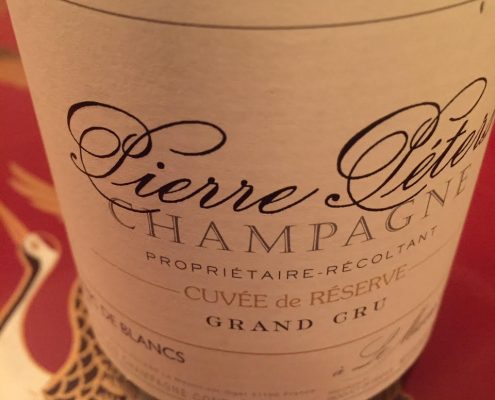 A real crowd pleaser Champagne. A warm site leads to a fruity nose of pear, peach and apple. A strong citrus attack, with grapefruit and lime on palate. A rounder, fuller Champagne derived from 40% reserve wine added. Not oaky, not yeasty but the is a chalkiness to it that makes you smile after each sip. This minerality makes the wine memorable. The mousse was a little coarse, but that's ok.
---
Pol Roger Sir Winston Churchill Brut 2002 – 4.5 stars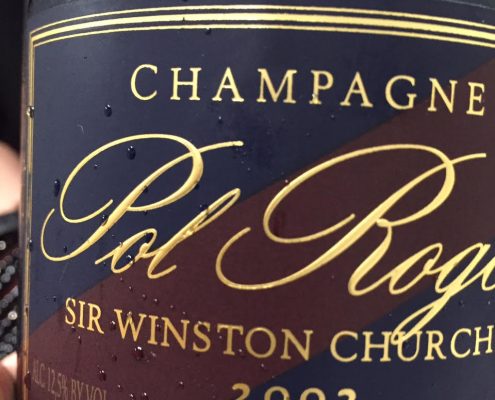 The favorite Champagne house of Winston Churchill, this tribute wine is only made from vines that were alive in his time. First vintage was 1969. 80% Pinot Noir with 10 years on yeast and hand riddled. (Pol Roger employs 4 of the last 15 riddlers in Champagne). Chalky and toasty nose, with some lemon zest, grapefruit, nutty toast, and pralines. Traditional but fresh, maybe too fresh as it was a bit reductive. The best feature was the cushiony mousse – almost weightless. Elegant power.
---
Champagne Dom Ruinart Brut Blanc de Blancs 2004 – 4.5 stars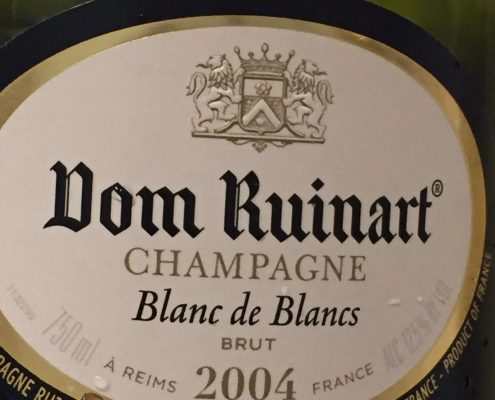 The most surprising thing about Ruinart is that none of my friends have heard of it. Good – more for me. This is their top cuvée, all Chardonnay, fermented in stainless steel. It is crafted without oxygen, completely opposite in style to Salon, and starts mineral. Time in the glass coaxes out a fatter, almost sweet nose of jasmine, custard, gun flint and nougat. Medium bodied with a vanilla finish. If anything I drank it too early. Try the 1988 or 1990.
---
Salon Le Mesnil Brut Blanc de Blancs 2002 – 5 stars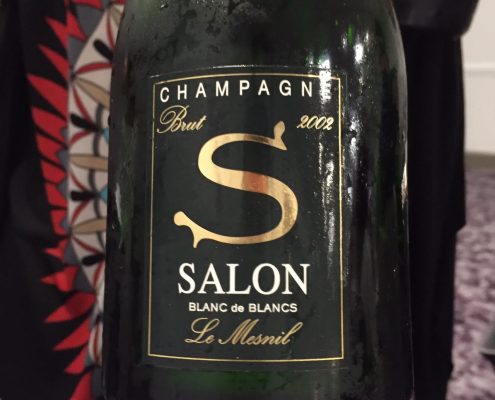 What better way to celebrate than with Salon! And what makes Salon so special? It is that only one cuvée is produced from one grape variety from one village in excellent years. It's hard not to get excited. Fermented in steel, aged 10 years on lees, hand riddled and no ML make it more unique still. Immediately noticeable is the super-soft mousse. A yeasty nose including brioche, coconut and struck flint. Weightless in the mouth, and very dry. The high price is due to rarity, not marketing. Sublime!
---
Taittinger Comtes de Champagne Blanc de Blancs 2005 – 4.5 stars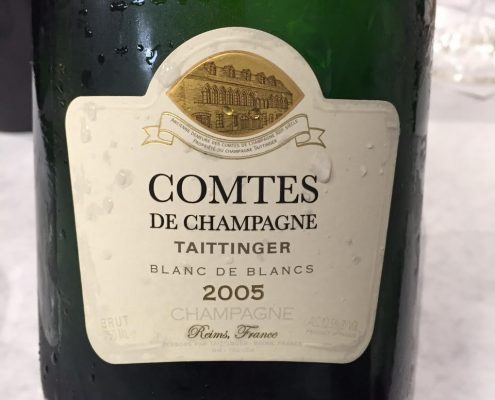 Top wine from Taittinger. Blended from vineyards across the Blanc de Blancs and each brings something to the table: Avize (elegance), Le Mesnil-Sur-Oger (body), Chouilly (roundness), Cramant (almond aroma) and Oger (Citrus). It has a emphasis on primary fruit, with a nose of lemon peel, peach, ripe apple, apricot and cream and nuts. For some reason I also detect Cheddar cheese. Aged for 10 years. Rounder than Salon or Dom Ruinart. Light finish.
---
Veuve Cliquot La Grand Dame 2004 – 4.5 stars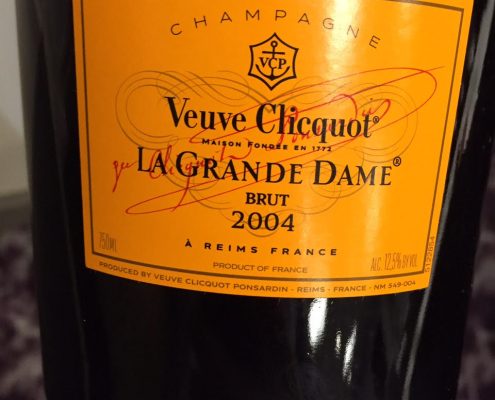 Madame Cliquot is most famous for cutting holes into her desk and slowly moving Champagne bottles from horizontal to vertical to catch the dead yeast under the cap. The invention of the riddling rack made it possible to mass produce and export Champagne. The grapes only come from villages where Madame Cliquot owned vineyards. At 61% Pinot Noir, it is lush, rich and full. Fruity nose of peaches, grapefruit and apple with added layers of honey, toast and spice. Still remarkable fruity for an 11 year old wine. Long mineral finish.
https://maxnapatours.com/wp-content/uploads/2017/03/the-champagne-region.jpg
1080
1920
Max Roher
https://maxnapatours.com/wp-content/uploads/2015/06/logo_top_transGrey3.png
Max Roher
2017-04-17 13:30:51
2017-04-17 13:41:30
The Champagne Region