History
Madeira was rediscovered in the mid-14th century. It is the largest in a group of volcanic islands off the coast of Morocco. The high jagged peaks are covered in thick vegetation, with the very word Madeira meaning woods. Prince Henry of Portugal ordered his best man, Zarco the One Eyed to have it planted with grapevines, which he brought from Crete. Fires were lit to make way for sugarcane and grapevines, which left a thick layer of ash. Madeira soon became the greatest producer of sugarcane, and it followed the Canary Islands as a producer of "sack".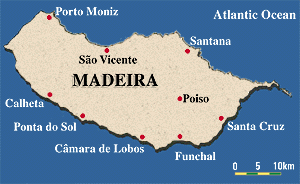 By 1570, Brazil was producing more and higher quality sugarcane, so Madeira refocused on wine. Conveniently located on the way to the Americas, and ships would stop at the island to pick up supplies. There was a growing demand for wine in the American colonies in the 17th century. Because of the wind currents, a northern Atlantic passage is difficult. Ships would pick up Madeira on their way to the Americas, and then sail south along the 13th degree of latitude. It was an ordinary wine when loaded, meant to be drunk in a year. The best wines in those days were Malmseys, sweet and for the rich. Serial made the best dry wines, with Bual and Verdelho (Vidonia) in between. High-quality wines were made from Terrantez and lower quality from Tinta Negra Mole. Ships would stock up on Madeira, and the very hot conditions on the ship maderized (oxidized) the wines, turning it brown but making it more pungent and smooth.
In 1640, all grain was sent to the Crusaders, leaving Madeira which couldn't grow any, on its own. It resolved the issue by trading with the American colonies more, and wine is all it had to offer. Brandy, or Vinho de Surdo (brandy and unfermented must) was added to the wine to preserve it on the long voyage at the rate of two bucketful's a pipe. The hotter the journey, the better the wine tasted. By the mid-18th century, ships were travelling to India across the equator, and a few years later ships were asked to take Madeira across the equator and back as ballast, with these wines selling for higher prices. Why pay the cost to ship around the world when Madeira has got and humid conditions? The first estufa was built in 1794, complete with a stove to circulate hot water, to age the wine on the island. However many felt this was inferior. Wines aged upon traveling ships were made until the onset of World War 1. Madeira was a favorite of the American colonies, especially in Savannah, Charleston, Boston and New York.
In the 1850's oidium was introduced and spread rapidly because of the humid climate. Vines are now sprayed with sulfur to combat this problem. In the 1870's, phylloxera dealt an even more devastating blow, destroying all vineyards on the island. Most producers left and Madeira has never fully recovered. Bananas became the main export. The American resistant hybrid, Tinta Negra was planted en masse and made lower quality wine. In 1913, several shippers united to form the Madeira Wine Association. Today, MWA exports about half of the islands wine. In the past 50 years, many of these vineyards have been replanted to the noble varieties listed below, which are considered higher quality.
Sailors always knew where Madeira was because its 6,000 foot crags always seemed to be under dark clouds, contrasting the Sahara desert 400 miles to the east. It shares the Saharan heat, but is humid as well. Madeira has long warm winters and torrid summers, and fungal diseases are the chief problem on the island. The capital Funchal gets 25 inches (640mm) of rain per year; however the highest peaks get three times as much rain. The entire island is covered with over 1250 miles (2000km) of manmade channels called levadas. This ensures that water makes it every property. Madeira has a mean annual temperature of 66 degrees (19C), which is much warmer than other fine wine regions. The warm damp climate means that vibes have to be trained high off the ground. Vineyards can have a 45 degree aspect and workers need to duck under, but look up under the lattice, making difficult work.
Madeira means "Island of Woods", and indeed there were great forests and no people until the first ships arrived. Legend has it that fires burned continuously for 7 years to clear the land. This deposited a layer of ash which made the soils even more fertile. There is little flat land on the island so the slopes are full of tiny shelf like terraces stretching up into the clouds. Few shippers own land, and just buy from the over 4000 growers. This will probably never change, as land is too expensive to buy. Vines are trained up pergolas as space is a premium, providing air circulation for the vines. It also allows room for a second crop of vegetables under the vines, and vineyards are interspersed with bananas, avocado and willow for basket weaving. The average plot size is tiny, at an acre and a quarter (.5ha), with the largest single vineyard at 10 acres (4ha). Viticulture is geared toward high yields of just ripe grapes, and the majority of vines are young.
Grape Varieties
Sercial came to Madeira from the Bucelas region on mainland Portugal, where it is called Escaga Cao (dog strangler) because of its fierce acidity. Sercial likes the coolest temperature and grows on the north side, or higher elevations on the south side. It is known for a sharp acid. There are plots of land at 3000 feet elevation at Jardim da Serra (mountain garden), but most comes from the near vertical slopes on the north side of the island. These vineyards are protected from fierce winds by bamboo. Sercial rarely achieves higher than 11% potential alcohol, with high altitude arriving in October with on 8%. Sercial produces big bunches of medium sized thin skinned berries, which are somewhat resistant to powdery mildew. Bunch rot is an issue. Acreage was less than 50 acres in 2010, but this number has been steady. Sercial typically produces the driest wines, with nice fruit, nut and mineral flavors. While it can be astringent when young, the wine becomes wonderfully complex later in life. It should be drunk as an aperitif.
Verdelho is the most planted of the noble varieties at 120 acres on Madeira, and is a popular choice in the Azores and Canary Islands as well. There is debate whether this variety might have come from mainland Portugal, or actually originated on Madeira. Vines need deep soils which stay moist. Verdelho is planted in slightly warmer locations than Sercial, with the best sites, Ponta Delgada and Sao Vicente, in the north. Bunch rot and coulure are viticultural problems. Vines are early ripening, with low yields. The must is fermented to dryness, then sweetened and fortified with vine surdo. Verdelho typically produces medium-sweet wines, with high acidity and caramel, honey and smoke. It is a soft wine, and should be drunk early in the meal.
Bual, (or Boal) is actually Malvasia Fina from the Duoro in Portugal. It grows in warm locations on the south of the island, between Ribeira Brava and Calheta. There are about 50 acres left on the island. It is late budding, and very susceptible to Powdery mildew. Bual has more body and sugar than Sercial or Verdelho, but lighter and slightly less sweet then Malmsey. The same Bual became synonymous with an off-dry style of white, but today wines labeled Bual must be 85% of that variety. It produces a medium sweet wine with raisiny fruit and aromas of nuts and smoke. Still a dessert wine, Bual should be enjoyed postprandial here are the findings.
Malmsey (Malvasia di Lipari) is a very old variety of unknown origin. It likes southern sunny slopes, and the warmest sites near the water. Malvasia is best pruned long, as it is early budding and late ripening. There might be as little as 10 acres left. These are the sweetest wines on the island, and are very fragrant with honey, raisin and caramel flavors. They have a dark brown color and a creamy rich texture.
Terrantez is a historic variety that is making a comeback. It was not replanted after the oidium and phylloxera epidemics in the second half of the 19th century. Yields are very low, with some years not yielding any fruit at all. Very thin skins make is prone to botrytis and berry splitting. These wines are rare and expensive.
Tinta Negra (previously Tinta Negra Mole) is most planted with 684 acres, accounting for over 80% of Madeira's output. They are a relative newcomer to the island, dating back to the mid-18th century. The berries are dark, thick skinned and resistant to Powdery Mildew, which made them a popular choice after powdery mildew and phylloxera were introduced. The typical Tinta Negra wines is fermented almost dry in concrete vats, then sweetened with unfortified grape must and fortified. It is then heated by coil for 3 months in a 50,000 liter vat, making a lower quality wine. Much is destined for sauces in French kitchens. Black Spanish or Jacquet is an American hybrid, producing lower quality wines.
How Madeira is made
The aging process is what gives Madeira its character. A light base wine is made from one of the above varietals. The skins are left for the sweeter wines, like Malmsey and Bual, for more phenols to balance the sugar. The skins are removed for dryer wines, such as Sercial, Verdelho and Tinta Negra. Fermentation is then arrested with the addition of neutral grape spirit. The fermentation is stopped earlier for sweeter wines like Bual and Malvaisa, and later for Sercial and Verdelho. At this point, the wine can follow two main courses for aging:
Estufas were created in an attempt to re-create the tropical heat of a long ocean voyage. The wine is placed in stainless steel or concrete tanks with hot coils wrapped around them. These are heated to between 45 and 50 degrees Celsius (113-122 Fahrenheit) for 90 days. The heat caramelizes the sugar and gives Madeira its distinctive taste, while also creating consistency. A better quality wine can be produced with a lower temperature for a longer time, like 40 degrees for six months. Speeding up the process by increasing the temperature will result in a stewed and coarse wine, with a burnt sugar taste, so this is avoided. The oxidative aging process allows the wine to become very stable and virtually indestructible. Due to the higher levels of alcohol (19%), acetobacter, which would turn the wine to vinegar, is rendered useless. The cheapest wines are fermented in swimming pools with hot water coils running through them. Most Madeira becomes French cooking wine, and the grape used is typically Tinta Negra. In general, wine made by the any estufa method is less complex than those aged through the Canteiro process.
The Canteiro Method is used for the finest grapes on the island; Sercial, Verdelho, Bual and Malmsey, and are not artificially heated. Sercial and Verdelho are made as white wines, fermented after pressing, without their skins. They are then sweetened and fortified; serial with more fortification and Verdelho with more sweetening. Bual and Malvasia are fermented with skins until Bual has consumed half its sugar, Malvasia a third. Then fermentation is stopped by adding grape spirit from mainland Portugal (originally cane sugar). At a total strength of 17%, it is moved to 650 liter American oak casks called scantling pipes.
No estufagems are used, instead the casks are stored under the eaves of the shippers warehouses in the islands capital, Funchal. The first few years the wines are stored high up in the lodges where the temperature can be 28c with and evaporation rate of 6-7%. The humidity is approximately 85% which means that there is no loss of alcohol. As the wines age they are moved to cooler parts of the lodge for longer ageing. The warmth from the sun over time in these lofts causes maderization, and gives the wine pungency and a feint caramel tang that is one of Madeira's signatures. It is then slowly cooled, and quality is checked. Madeira is racked by pouring over a long distance to give it more air.
The method concentrates sugars, acidity and dry extract. A wine ending the canteiro method can expect over thirty years to increase its acidity from 7-10g/l to 12g/l and for a Malmsey wine aged by the method over the same period its dry extract can increase from 22g/l to 40g/l. This makes the wines concentrated, aromatic, high in acid, delicate and expensive. Heat and oxygen moving through the pores of the cask oxidize the primary fruit aromas, caramelize grape sugars, and contribute to the formation of the lactone soloton, all of which transform a bland, high-acid wine into one with aromas/flavors of roasted nuts, brown sugar. However, wine smade in the Canteiro method have less caramel, and more fresh fruit than estufem wines. Wines made by this process must a minimum of three years old upon sale. Madeira was originally blended by Solera system, and today the EU allows it. Wines from old soleras are the best, but the best are single vintage wines from a single grape variety. These are set aside and watched, and may be released as vintage wines 30 years later.
The Madeira Wine company uses a process named Armazen de Calor, which falls between the Estufa and Canteiro methods. Wine is stored in large wooden casks and moved to a room outfitted with fat steam pipes behind the walls. This creates a sauna effect and more gently exposes the wine to heat. Wines are left for 6 months to a year.
Classifications
Madeira is also classified by age (3, 5, 10 and 15 years) stated on the bottle, by sweetness level (dry, medium, rich), and by grape variety. Generally speaking, the older the more superior the quality:
Finest (aged 3 years): Tinta Negra made by estufa. They range from dry to rich. Rainwater is considered medium dry. This style is usually reserved for cooking.
Reserva (aged 5 years): probably Tinta Negra Mole, but could be a noble varietal or a blend of noble varieties as this is the minimum allowed to state a variety. If there is no grape variety on the label, then the variety is Tinta Negra.
Special Reserve (aged 10 years): made with a single noble variety and usually aged in canteiro.
Extra Reserve (15 years) reserve are similar to ten, just aged longer.
Colheita or Harvest, is from a single vintage and aged for 5 to 19 years in cask. The word Colheita must appear on the bottle next to the vintage, and producers swaps the word out for Frasqueira once the wine reaches 19 years of age. This is a newer style usually made with one of the noble varieties.
Frasqueira wines must be of a single variety and single year, and must be in cask for 20 years (19 in cask and 1 in bottle). Some are in in barrel or glass demijohns for a century, where they develop very slowly. The wine is known to never diminish, and once opened stays fresh for months, and even years. They are indeed Vintage wines, but cannot use the word as it is reserved for Port. They are the rarest and most expensive of Madeira's wines, and are very complex with burnt sugar and dried fruit. Frasquiera wines aged by the canteiro can lose half their volume to evapotranspiration.
Rainwater is a popular style of Madeira. It is lighter and about as sweet as Verdelho, but made from the Tinta Negra grape. Legend has it that some Madeira was left in the rain on the docks of Savannah, and the wine was diluted. It is drunk as an aperitif.
https://maxnapatours.com/wp-content/uploads/2016/08/madeira-wine.jpg
1362
2288
Max Roher
https://maxnapatours.com/wp-content/uploads/2015/06/logo_top_transGrey3.png
Max Roher
2016-08-31 10:17:30
2017-02-13 12:12:30
A Beginner's Guide to Madeira Wine